Understanding the portfolio of evaluation metrics currently available can be useful to researchers when establishing their online identity. Research metrics are quantitative tools used to aid in assessing quality and impact and can be categorized at the journal, article, or researcher level. 
Join us for our next Advancing Authorship event, Standing Out in the Crowd: Making Research Metrics Work for You! Speakers will share their thoughts on research metrics and participate in an interactive panel discussion.
Date: Thursday, September 30
Time: 12:00 PM – 1:30 PM
Location: Zoom Webinar – Register Now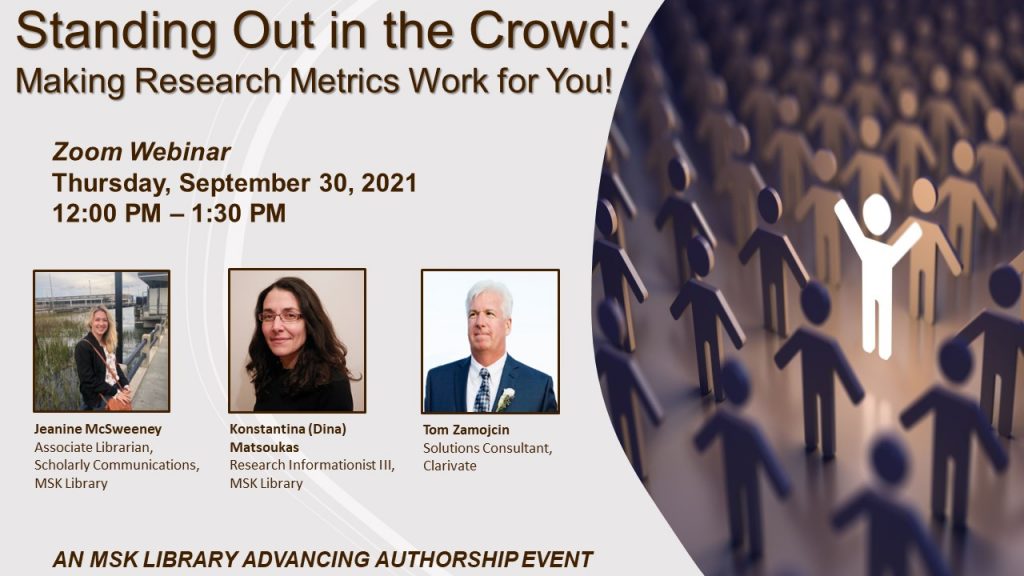 Speakers: 

Jeanine McSweeney, Associate Librarian, Scholarly Communications, MSK Library
Jeanine is a seasoned information professional who joined the Memorial Sloan Kettering (MSK) Library in July 2018 as the Associate Librarian, Scholarly Communications. Jeanine works in a collaborative environment to promote and develop the Library's publication database, Synapse (https://synapse.mskcc.org). This resource is public-facing and showcases the intellectual output of MSK authors. Synapse records include Altmetric scores, online attention received by scholarly articles and datasets from social media, traditional media, and online reference tools. The Dimensions' citation badge is also available, providing the number of times researchers have cited a paper (if available). Jeanine leads a team that maintains this resource and is responsible for publishing the online annual Synapse Publications Report.
Dina Matsoukas, Research Informationist III, MSK Library
Konstantina (Dina) Matsoukas has been a Research Informationist at the Memorial Sloan Kettering (MSK) Library since 2014. She provides literature search support to the MSK community, teaches library training classes and is a member of the MSK Library's Systematic Review Service. Prior to MSK, she worked as an academic medical librarian for over a decade at Columbia University Medical Center's Health Sciences Library. She holds a BSc in Biology and a Master of Library and Information Science (MLIS), both from McGill University in Montreal, Canada.
Tom Zamojcin, Solutions Consultant, Clarivate
Tom has 18 years of experience in Solutions Consulting and key account management with Clarivate, collaborating with a diversity of Government, Academic, Life Science and Corporate organizations. Prior to entering the world of research publications, he worked "hands-on" in manufacturing and research settings with a wide variety of industries, including biopharmaceuticals, chemicals, and foods and beverages (and has amassed collections of safety glasses, hard hats, and customer stories as lifetime souvenirs!). He is passionate about understanding "how things work" to help our customers optimize their use of Clarivate solutions, services and data to solve their most critical problems. Tom received his Biological Sciences degree from Northwestern University, currently lives in Valley Forge, Pennsylvania and looks forward to hiking and traveling again as soon as the world allows it.